Join us today to learn more about Bonnie Sullivan! Her monthly club, Bertie's Year, has been a huge hit at Shabby Fabrics, and we know you'll love her patterns and flannels too. She's also giving us a little peek into her sewing room. And don't forget to enter the giveaway at the end!
Oregon has been Bonnie's home since she was born and where she continues to live with her family. She enjoys the beauty of the Pacific Northwest and being close to both the ocean and the mountains. The colors of the lush green Willamette Valley and her love of nature are reflected in Bonnie's designs.
Bonnie has been sewing and creating since she was a child. She is one of three girls and when she and her sisters (Ann and Kathy) were young, they would spend many hours in the crafting area that their mother had set up for them creating doll clothes, Christmas ornaments, and whatever else their imaginations could come up with. She credits her mother, Marjorie McCanse, with helping to foster the creative spirit she now embraces.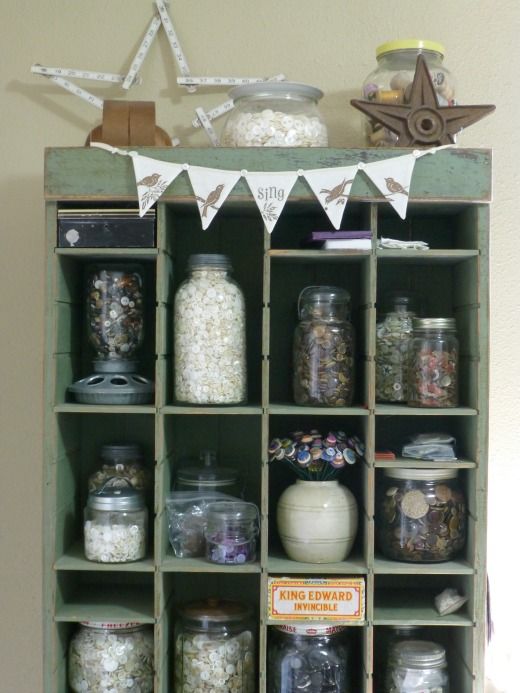 When Bonnie's eldest son, Marcus, was born (29 years ago) she decided that she wanted to find a way to stay home with him and began crafting in earnest. She sold her creations at craft fairs and through a home decorating company until her second son, Sean (now 20), entered kindergarten when she decided to go back to school and finish the college degree she had started some twenty years earlier. She graduated with a Bachelors Degree in Family Studies in 1999 but soon after realized how much she missed nurturing her creative side and once again went about finding a way to make a living doing what she loved.
Around that time Bonnie had been introduced to the world of working with wool and soon designed a line of Penny Rug patterns under the business name of "All Through the Night." The name came from the fact that she spent many late hours working on her designs. Bonnie and her sister
Kathy
, who had developed a line of paper goods featuring her watercolor paintings that focused on quilting, decided to present their designs together at their first International Quilt Market in the Spring of 2001 in Kansas City.
From there her business continued to grow and she soon signed on with the fabric company, Maywood Studio, and has designed several fabric lines. One of her most well known being the "Woolies" line of flannels she created. She wanted to have flannels that looked like the wools she so loved to work with and she enjoys combining the two textiles in many of her works.
See the rest of Bonnie's line of flannels here.
Bonnie is continually inspired by many things in her life. She has quite a collection of books featuring antique quilts and textiles and old books with fun sayings, quotes, and illustrations that seem to inspire her with new ideas every time she looks through them. Bonnie loves the way children experience the world with such curiosity and wonder and hopes that she will always remember to view things with that same sense of innocence and imagination.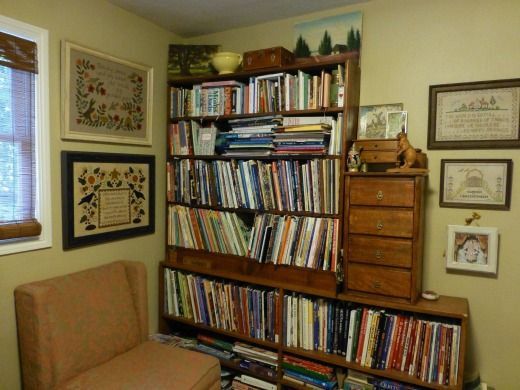 The past few years have also afforded Bonnie the opportunity to do some traveling overseas where she found new inspiration at every turn and she looks forward to doing much more traveling in the future. Bonnie and her sister, Kathy, spent the month of September, 2010 in France on a quest for new and fresh ideas. They published a book in 2011 called
French Inspirations for Artful Hands
which is filled with projects inspired by their journey.
One of Bonnie's latest projects is
Bertie's Year
. Join Bertie the bird as she celebrates the changing seasons in twelve fun projects. We only have
10 3 spots
remaining so hurry to sign up for the monthly club! All of the applique pieces are laser-cut and backed with Heat n Bond Lite so there's no need to trace, cut out or turn the edges!
You can find more of Bonnie Sullivan's designs at Shabby Fabrics in our
Featured Designer
category.

-- GIVEAWAY --
We'd like to give TWO lucky readers a copy of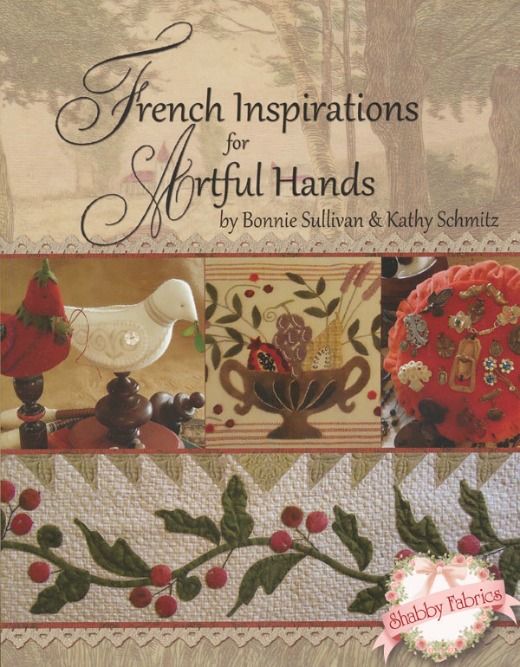 Join Bonnie and her sister Kathy on their trip through France as you work you way through the sixteen projects that were inspired by their travels.
a Rafflecopter giveaway
To enter, leave us a comment and then follow the instructions in the box directly above this. For additional entries, you can sign up for our email newsletter and like us on Facebook. Two winners will be randomly selected on April 7, 2014.